Mayfair FX strike up partnership with Wycombe Wanderers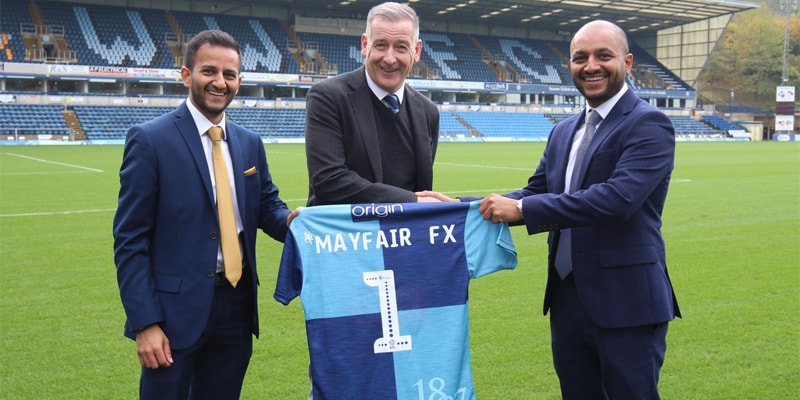 Mayfair FX are proud to be announced as Wycombe Wanderers' Club Official FX Payments Partner in a first-of-its-kind strategic partnership in football.
This relationship will strengthen both Wycombe Wanderers' and Mayfair FX's ambitious progression plans and at the same time, provide benefit to the wider Wycombe Wanderers community.
Mayfair FX, based in London, offers International Payments and Currency Transfer solutions to businesses and individuals globally, and will be engaging with both the club's supporters and sponsors via the Business @ Adams Park network.
Mark Palmer, management consultant at Wycombe Wanderers, said: "Mayfair FX have made great strides since starting up only six years ago and we believe that their partnership with us, as a progressive League 1 football club, will help introduce them to many more prospective customers through the wide range of commercial opportunities that we can provide.
"They've signed up to a host of signage, match sponsorship and business networking benefits and we're excited to bring on board another fantastic company to work closely alongside over the coming months and years."
Jessal Shah, CEO of Mayfair FX said: "We've been extremely impressed by Wycombe Wanderers' recent achievements and are delighted to associated with a successful, progressive club. Our aspirations are strongly aligned, and we look forward to beginning this partnership by showcasing our services to their supporters and sponsors.
"We offer market leading payment solutions combined with a professional personal service to all our customers that are making international money transfers. Our team is excited to be supporting Wycombe Wanderers with their own currency requirements and are keen to help businesses and individuals that have a need to send money globally."
Visit www.wycombewanderers.co.uk to learn more about Wycombe Wanders.
How to get in touch?
Call – 0203 66 77 345
Email – team@mayfairfx.com
Website – https://www.mayfairfx.com/register